Carpet Broker – Antique Carpets
Carpet Broker is born from an entrepreneurial idea of Sandro Manico, enthusiastic collector of antique carpets, who decided to realize his dream, dealing with antique carpets, taking advantage of its twenty-year managerial experience and also putting good use his degree in Communication and Marketing of the Art Management.
"My goal is to be able to exceed the expectations of demanding customers who are looking for rare, precious and not ordinary carpets, but also with an excellent value for money ratio."
Sandro Manico, founder of Carpet Broker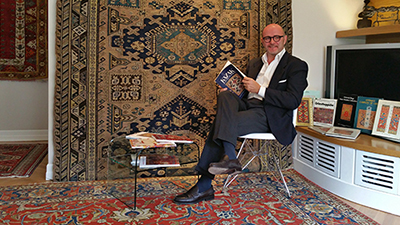 "Beauty will save the world"
Fedor Dostoevskij
---
WHY TURN TO CARPET BROKER
We are not born traders, but as enthusiasts of antique carpets, so it is passion that drives us to seek new carpets that could renew the collection that we share with you.
We are looking for you antique carpets, hard to find on the market, that will make your home the most prestigious and your even more rare collection.
Who says that a rare carpet should be also expensive? We can help you to enrich your collection at affordable costs and lower than market.
All carpets that make up our collection, and that we are looking for you, are guaranteed and have a certificate of authenticity.
If we got, or we found, a carpet for you, you can request an appointment to be able to easily view it, without any obligation.
If you want to get an appraisal regarding a carpet in your collection , or entrust us the exploratory mandate to search for a rare piece, you can ask our consulting services.
New carpets in the Collections